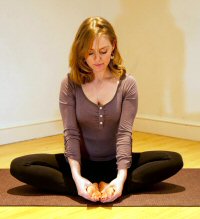 Amy Ku Redler has been working exploring mind-body connections, healing, health and wellbeing for the last 25 years.
Amy is interested in the release of unhelpful patterns of stress via movement and yoga, Pilates, massage, meditation and other healing modalities. She has been featured in magazines such as Vogue, Time Out, The Times, Evening Standard and the Scotsman on Sunday.
Her passion lies in finding ways of releasing tension, enhancing lifestyles and supporting individuals through life's challenges.
DIPLOMA
The training takes one year and place over several weekends. Please talk with Amy if you wish to join after the course has begun
It is an opportunity to gain a solid grounding in the art of Thai Yoga massage, the diploma course is ideal for yoga and pilates teachers and other therapists keen to broaden and deepen their skills and to enhance their careers, as well as those who would like to learn more about yoga philosophy, mindfulness and energy balancing massage.
 
TThai yoga massage is an amazing therapeutic treatment. An ancient healing practice that has been described as a meditative application of loving-kindness.
It is based on the idea of invisible energy lines (the Ten Sen) that run throughout the body. Rooted in yoga philosophy and practice, the aim is to release blockages along those lines, and thereby free the recipient up from aches, pains, anxiety and tension.
During a session, the recipient will be asked to wear loose, comfortable clothes and to lie on a mat on the floor.
The therapist uses their hands, feet and elbows to apply pressure to points along the Ten Sen, in combination with gentle stretching and yoga-like postures.
Each treatment is tailormade to the needs of each individual
     
Some common ailments that Thai Massage can help with are:
IBS
Insomnia
Low energy
Corporate stress and wellbeing
Fatigue
Back pain
Circulation problems
Migraines
PMS
The diploma course takes place at
Kentish Town Studio, 1st Floor, 141-145 Kentish Town Road NW1 8PB
nearest tube stations are Camden or Kentish Town, or overground Kentish Town.
There will be an advanced intensive in Crete, Kissamos in April 2016