Ibiza Bija Teacher Training Intensive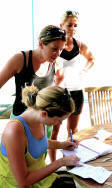 This course will be run principally by Jacqueline Purnell BWY Diploma Course Tutor and E-RYT 500 Yoga Alliance Teacher
Jacqueline, who is a highly qualified and experienced teacher, and has been training Yoga Teachers for the last ten years in London and Ibiza and is pleased to offer the Ibiza Bija Yoga Teacher Training Intensive.
Jacqueline's past Teacher Trainees, once qualified, have reached out to teach Yoga in a many different ways so as to suit their lifestyles, teaching Yoga either on a part-time or full-time basis. There is also ongoing support and the option of continuous  professional development.
Jacqueline has been teaching yoga for many years all over the world and originally trained in Astanga Vinyasa Yoga with the late Sri.K.Pattabhi Jois and Derek Ireland in India.
She is also a certified Jivamukti Yoga Teacher, training with David Life and Sharon Gannon. Jacqueline has also worked with Shandor Remete and attended Teacher Training of the Shadow School.
 
This course is highly suitable for  yoga students who want to go far deeper into their own practice of yoga who have a strong desire to teach but also for students who are looking to immerse themselves in this wonderful arena of practice and study and for  reflective personal development .

The Ibiza Bija Yoga Teacher Training Intensive is a professional qualification which reflects ancient values at work in the modern world, where professionalism and the Yoga of the Sanskrit scriptures meet.
Student teachers find a special empowerment from this Course. Whether you have been practicing for many years or if you have never practised yoga before the opportunity is created for you to deepen your appreciation and develop the skills required to teach within the vibrant world of Yoga.
The combination of the skills and knowledge that will be transferred during this course make it truly life enhancing. Yet at the same time although the surroundings are very beautiful it is vitally important to understand how demanding the Course is. Self Discipline is the key to the Intensive. You will find new reserves you didn't know you had in order to successfully complete this course.
It is important to stress that there is very little time  to yourself during this Course but the friendships and camaraderie engendered by the demanding schedule does make the process very interesting and uplifting. There is a huge wealth of knowledge and information to digest.
A typical day during the course
| | |
| --- | --- |
| 6am | Meditation Discourse and Satsang |
| 8am | Practicum. Teacher Training Classes |
| 10am | Brunch.  Karma Yoga and free time |
| 2pm | Afternoon Lecture / Workshop |
| 4pm | Asana Practice |
| 6pm | Dinner |
| 8pm | Evening talk / Satsang / Meditation / Chanting |
Commitment levels required to successfully complete this Course are high and the Course should not be undertaken lightly. You will need the full support of family and friends. However it does equip one to teach with confidence. It may change your life. Please note this is an alcohol and drug free training.
Teaching Style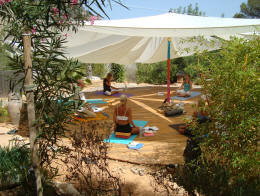 The Ibiza Bija Teacher training Intensive does not have a set style, but draws on the inspiration of Swami Sivananda and many other great gurus of recent history.
The approach is very much reliant on passing the skills for appropriate modification, safety in asanas and adaptation of postures for common (and often uncommon) medical conditions are the key features within this training.
The course is comprehensive, covering everything from how the muscles and joints work within the postures, through Pranayama, Mantra, Meditation and class management, to the main philosophical texts and how they are relevant, both to the history of Yoga and Yoga as it is practised in the West today.
During this Course you will enjoy plenty of space and warmth ideal for the practice, study and contemplation of Yoga.
Teaching methods are student-centred and fun; while there is plenty of theory in the syllabus, interactive teaching methods are used to keep things moving. Practical Yoga sessions, role-play, pair and group work are all employed to help you develop confidence and autonomy in exploring the topics on the timetable. The methodologies used ensure this is a cutting edge Yoga Teacher Training and is both transformational and confidence-building.
 
Sessions  will be extremely full. The key to safe Yoga teaching is understanding, and that understanding comes through experience, observation, dedication and - teaching.
We do small peer-group teaching sessions from the beginning of the course, in which we road-test how to deal practically and professionally with the situations (common and uncommon) which can arise in a Yoga class.
You are encouraged to start teaching your own class early on in this Course. 

About your qualification
The above Diploma will only be awarded if the student teacher has attained full attendance and has satisfied the assessors.
Providing the student teacher fulfils all requirements of the Teacher Training Course (including a pass result for the final class assessment and written assignments) the student teacher will graduate and obtain the "Ibiza Bija Yoga Teacher Training Diploma".
The student teacher will then also gain a Yoga Alliance 200 hour certificate. This international certification enables the Teacher to teach worldwide.
Includes
All training
A hearty brunch and dinner at the Garden of Joy each day except on your 2 free days (your accommodation has catering facilities)
Accommodation is off-site in twin rooms - there is a supplement for single rooms
Not included
Please note that flights and transfers to the venue are not included in the cost of the course, if you need help finding a flight talk us here in the office.
Do not leave booking your flight until the last minute - we highly recommend that you book it as early as you are able.